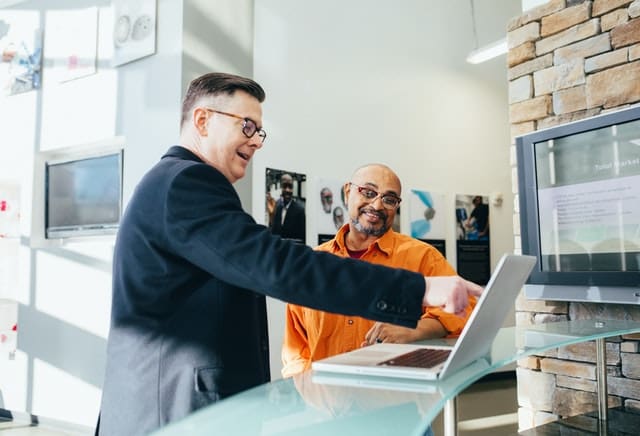 Most business leaders don't know how to structure their sales organizations or even themselves for maximum productivity. They don't know how to change, adapt and re-organize for new stages of growth. Thats why they spend thousands of dollars looking for the magic secret to get their sales team to perform like champion racehorses.
I learned the secrets to building heavy-hitter sales organizations while working for billionaire businessman, Charlie Munger. I doubled the sales of the first company given to me in just 15 months. And, I doubled the companys sales three years in a row. The lessons I learned here, I now teach to Fortune 500 corporations and other prestigious companies worldwide.
The techniques I used are remarkably simple. Heres how I doubled the companys sales 3 years in a row:
I put into place the policies and procedures that made every single sales representative perform like a top producer. I systematized the complete sales process. These should be normal business procedures. But 99.9% of all companies don't do it.
Turning your sales reps into top producers
In most sales organizations, the sales are ad-hoc. Everyones running around doing what they think is best. And, management sets very little or no minimum standards of performance.
For example, do you have a standard for the types of accounts your salespeople should go after? I bet the answer is no!
Have you worked on this aspect of proper targeting? What are your sales representatives going to present? What are the top five strategic objectives you want to achieve from every interaction with every buyer? Have you seriously sat down and talked about that and planned that out? Did you practice it, role-play it and polish it to a fine luster?
If you want to get more appointments and double your sales, you need to keep setting higher and higher standards. You need to raise the bar on what I now call "the minimum acceptable level of performance."
Heres how you can raise your sales organizations minimum acceptance level of performance:
To double my clients sales in less than 15 months, I first motivated the sales reps to go out and complete various assignments. They came back the following week and reported what happened, where they succeeded, where they failed, and where they struggled. Then, I went to work and tuned-up each subtle nuance of getting around the gatekeeper.
I meticulously worked on the exact telephone pitch to use. I discovered the five to seven elements of what would make prospects want to meet with the sales reps. I taught them three to five ways to not let prospects hang up on them. You wouldn't believe how much I had to work on "the close" of a telephone pitch.
Then I role-played the heck out of the reps. My goal was to improve every little word in every sentence.
Within about ten weeks, meetings started to pop left and right. The client that was getting a few lousy appointments per week were now getting 30 appointments per week with the exact same sales team.
And here's the kicker: ALL of the meetings were with "dream" prospects. Instead of working with whatever company they thought of at the time, sales reps were only allowed to work on the "dream" prospects.
Sales reps started to get huge meetings with huge prospects. Every deal was a monster. Previously the client only had a few monster prospects in play. Now they're in play with 20 to 30 monster prospects every single week.
But it didnt stop there.
If you want to double your sales, you have to systematize the complete sales process.
The more you can systematize the sales process, the more you can rely on excellent selling going on in your organization.
Thats why I started working on the client sales meeting itself. I analyzed the first thing the sales reps did when they walked in. I helped them figure out the exact questions the sales reps are going to ask and why theyre going to ask each one of them.
Then I analyzed the presentation. If you know my material, you know how devoted I am to a great presentation. I worked with the sales team to "set the buying criteria" in that meeting. You want to set it righteous. You want to make yourself the absolute most logical choice. And you simultaneously want to dis-empower all of your competitors completely.
I helped the sales team create the strategic objectives theyre looking to accomplish with every possible customer interaction. Then we figured out, how they would be met? And what the next move would be?
We even narrowed down what the ideal sale was and then what are the five layers of alternatives below if there was no way theyd be able to close the ideal sale.
The sales team got so good at closing prospects for a meeting that many would cool off and cancel once they were out from under the white-hot heat I had perfected in the sales pitch. So I systematized the process even further and put into place three separate steps to make sure no one cancels anymore. They company went from a 25 percent cancellation rate to only one in 30 canceling.
I was able to double sales because I was sure of what a top producer would do because I was one.
I knew what systems and procedures to develop because my instincts in this area are all natural. Its all part of my innate psychological profile.
Top producers respond perfectly to rejection by becoming more effective. They become more aggressive when someone is brushing them off. Top producers are more persuasive if someone isn't buying.
These steps can be honed into every aspect of your sales process. You too can turn regular salespeople into top producers. You just have to drill down like a scientist into each and every aspect of the sales process.